MEET THE WEST COAST FOIL CLUB (WCFC)
Jeff and Ryan Hurley are the original Godfathers of the foiling scene here in Southern California
and have influenced the foiling world for years with their unique and stylish perspective on foiling and foil board design.
They are the first to start the "foiling club" Instagram craze with their own West Coast Foil Club and they started/trademarked the most popular hashtag on Instagram as it pertains to foiling #loyaltothefoil.
Their humble nature would never allow them to admit to it, but their foiling style and influence on the acceptance of foiling within the surf culture combined with their friendships with some of the biggest names in the surf industry such as John John Florence and Kai Lenny, has forever changed the personality and quite possibly the direction of surf foiling as we know it. What many may not know is that West Coast Foil Club & especially Jeff and Ryan Hurley paved the way as an integral part in the inspiration for Freedom Foil Boards. Which is why FFB is beyond stoked to build a few collaboration boards with the WCFC and bring some of their unique shapes back to life for everyone to enjoy around the world!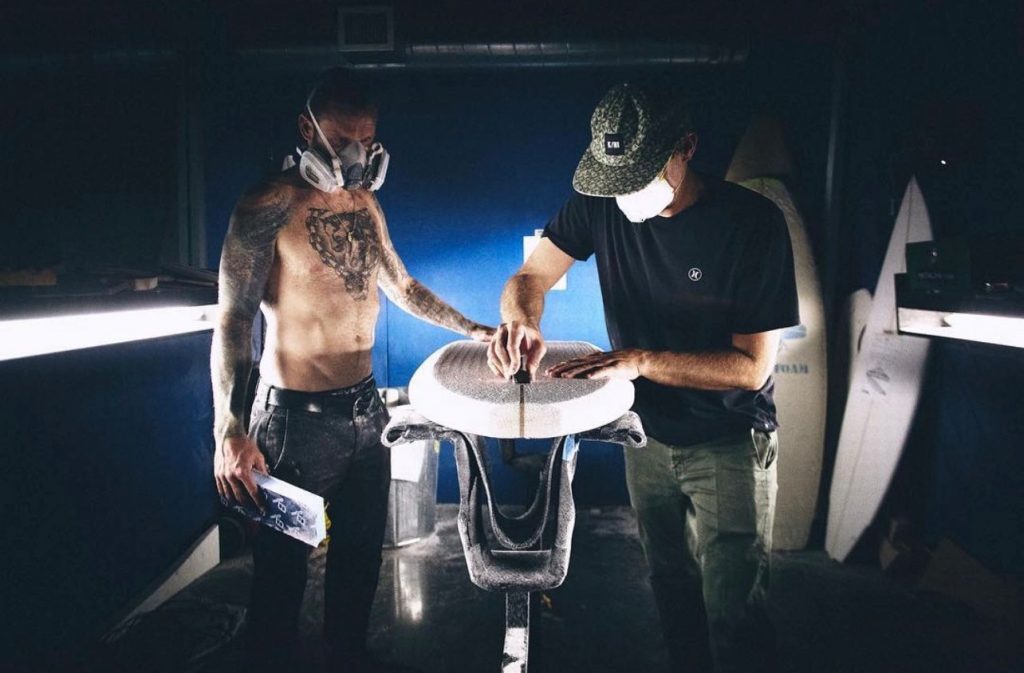 CHRIS SAYER CAUGHT UP WITH JEFF HURLEY TO GET INSIGHT ON THE HISTORY OF FOILING AND THE ORIGINS OF WCFC
Q: Jeff, FFB is so stoked to be working with you guys to collaborate and bring back a few of your epic foil board designs. What many may not know is that you guys were some of the very first to build carbon fiber foil boards. Can you let us in on what might have been some of your early inspirations and thought processes behind your board shapes and builds?  
  A: Yeah, for sure. At the very beginning, we were just mounting foils on regular surfboards, then made a couple of thick stubby boards specifically for foiling but still pretty much surfboards. The original thinking was that more volume was needed just to paddle and get up which proved to be exactly the opposite. As we were progressing at foiling, we were quickly realizing that these boards were too big and holding back performance. Kai Lenny started foiling on a Naish Kite board that was like 3'8" x 17" x 1" or something like that. That was the first time we saw anyone riding a small foil board. Kai was in town with the board and Ryan stole it and kept it. It's still in my garage today. Haha! While that board was an improvement over the surfboard type shapes, it was super heavy and not easy to paddle. We just thought that if we can take the best of that Naish kiteboard and combine it with more of a surfboard design and that is where our first WCFC boards came from. Just a hybrid between a surfboard and that kiteboard. Beveled rails, flat rocker, flat bottom and just enough volume to paddle, and stiff as possible.
Q: Were you and Ryan both shaping/designing boards or did one of you take the lead on that part of WCFC?     
 A: We were both designing and shaping. We would have a stack of cuts piled up in the shaping room and just whoever had time after work (we did have day jobs) would knock 'em out.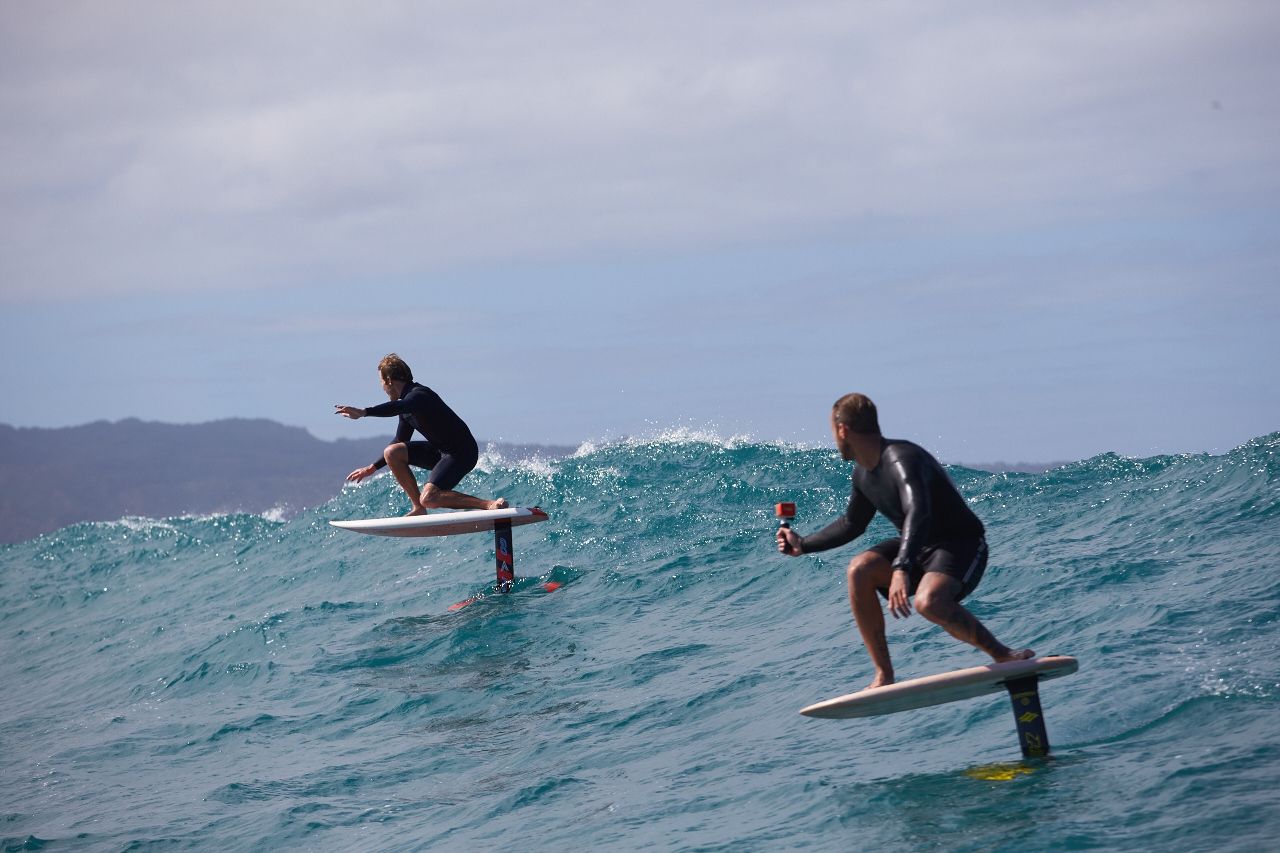 Q: It seemed around late 2017–2018 foiling on Instagram was dominated by WCFC presence. You guys were so heavy in the IG scene. In my opinion your boards and your surf style were a huge influence on the direction of foiling especially in the surf. I know Ryan is super creative in marketing. Was he the one who came up with the whole "Foil Club" idea and even the name West Coast Foil Club? Some of your early memes on Instagram were so good! 
 A:
Ryan was definitely the creative lead on the name and on all the content we put out. Haha, we just had fun with it and took nothing seriously except having fun. That was the thing that made foiling so fun in the first place. There were no egos or performance criteria to adhere to. We could make fun of ourselves or other foilers and foiling itself.
FOLLOW WCFC ON INSTAGRAM
Q: Most of the old school foilers, which in foiling is like 5 years ago haha, know who you guys are but the new generation of kids that are ripping have probably only heard of Brady Hurley. You both seemed to have passed the baton sort of speaking onto Brady. Why did you guys slow down and basically go into sleep mode on foiling and the WCFC IG account?  
A:
As we were learning to foil, we were hungry for foil content and it didn't exist. There was nothing to be found on the internet. If we were looking for it we knew others were as well so we figured we would make it. Between the content we started putting out and the advice we were giving in comments and DM's we were sort of the only source for helping people learn about foiling. We got so many questions about how to get foils and boards, what size, where to go, etc.. that we decided to start selling our boards and made a deal with Naish to sell their foils. We had a good little run where we were one of the only sources for foils and boards, at least that came with some credibility/customer service to help people get started.
While we had a lot of fun and a bit of business success, we were on it early and over time there became more and more players. More people making boards, more foils available, etc. We had to decide if we wanted to double down and really try to compete and continue to grow. Ultimately, we had jobs and WCFC was a side gig, a super fun one, but we couldn't really justify trying to keep pace and compete with those who were taking the business seriously.
While our content was not high production value, there is a ton of work that goes into continuing to publish and foster the community and with the day jobs and families that we love, we kind of just slowly phased out.
Brady is now in charge of the WCFC insta. We will see where he takes it.
 Q: I've heard that John John Florence is actually a dark horse in the foiling world and that he rips especially at downwinding! I know you both are working closely with him and his clothing line Florence Marine X. Does he talk much about foiling and do you ever get in the water foiling with him?
A: Yes! John, like most elite athletes, is good at anything he puts his mind to. John is a freak at anything ocean related, and foiling is no exception. Last we spoke foiling; he was pretty over "surf foiling" but super into foil travel/downwinding. He and his crew do some crazy long runs on Oahu.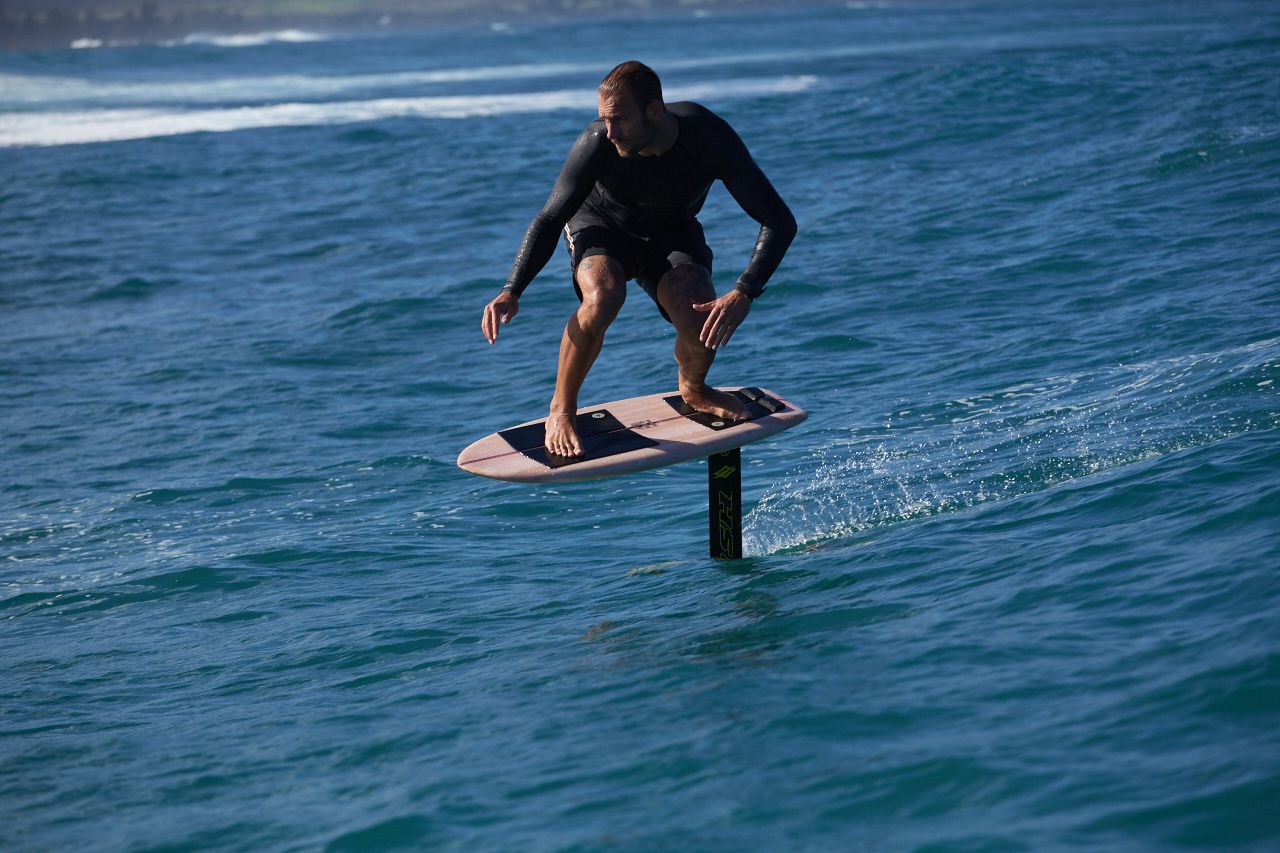 Q: Last question… if you had to choose between a foilboard, surfboard, or a pickleball court on Tavarua which would it be haha?
A: Foil board. Easy for me. While I love and appreciate perfect waves, I have been lucky enough to have a lot of those in my life and foiling allows you to enjoy and explore the ocean in any conditions without the pressure of crowds, egos, and competition.